Micro Credit Operations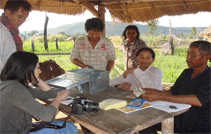 FLD became a licensed a micro credit operator on 18 March 2009. Known as Farmer Fund this programme aims to promote job creation in rural communities, giving members better access to microfinance services as an effective means of securing and sustaining their income and improving their living conditions.
I. Rural Employability Creation
Creating jobs in rural communities for improved livelihoods through better access to microfinance
The Asian Community Trust (ACT) has funded this project since March 2007 – ending 30 March 2010. It promotes and develops rural community livelihood options in two provinces, Kompong Speu and Preah Vihear.The second phase, Rural Employability Creation, promotes rural job creation by giving members better access to micro finance services. As well, it now reaches Siem Reap and Oddar Meanchey Provinces. The whole project will benefit 127 Village Savings and Loan Associations with 2,390 individual members, the majority of whom are female.
II. Income Generating Activity
Improving food and income security in vulnerable
households in Siem Reap province
Financed by CAF Australia for one year from 1 July 2009, there are currently 150 farmers in five groups who have been given basic agricultural skills training and access to micro loans. It is expected that 750 indirect beneficiaries or families will benefit from this project.
III. Commune Council Business Start-Up Fund (CCBSF)
The Start-up Fund is a lending system designed by CARE International to improve food security through providing loan capital to increase incomes. The primary loan recipients will be the most vulnerable people in the community, specifically, female and child heads of households, also those without land or any other means of income. There will be a particular, though not exclusive interest in providing funding to women. Loans will be given for business start-up or expansion only. It is not a fund for immediate consumption.

The CCBSF will be managed by Farmer Livelihood Development (FLD) because of its experience in rural micro-credit management in many Cambodian provinces. A good example is the FLD administered 18-month project in Ratanakiri that began in mid-January 2011. During this time, FLD is building the capacity of the Commune Council and the CCBSF Committee to manage the scheme. The project benefits up to 300 people from indigenous minorities in 25 villages of six communes in one district, in Ratanakiri.
IV. Village Saving and Loan Groups (VSLG)
This project is financed by KHANA to provide assistance to three partner NGOs in Pailin, Kompong Cham, and Siem Reap Provinces to form village savings and loans groups and train villagers in how to participate and benefit their lives. Ten VSLGs, in their respective villages, have been formed by 164 poor people, most of who are living with HIV. The project started in April 2011 and will conclude in March 2012.
Special Thanks to: