Farmer phone-in Consultancy
On 4 March 2010, for the first time in Cambodia, an exciting and informative rural radio talkback show hit the airwaves.
Called Farmer Opportunity, 'the radio series farmers must not miss', this is an FLD initiative. The series of 22 live programmes gives farmers and others in the agricultural industry the opportunity to both listen and take part in discussions about Cambodian farming.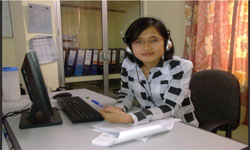 Farmer Opportunity is broadcast live by Radio Sarika on 106.5 FM and aims to help farmers improve farm production, incomes and living conditions. The programmes will be moderated by Lim Thida in the Voice of Democracy (VOD) studios in Phnom Penh. Talking to Thida are farmers, agriculture advisors, rural businesspeople, and commune leaders, NGO field workers and representatives from provincial government departments. Callers who want to state their opinions, and ask questions are welcome. The series wants to encourage people to discuss farming as a business, think of ways they could boost their income and, therefore, improve their livelihoods.
Farmer Opportunity is a partnership between FLD and the Cambodian Centre for Independent Media; funded by the Asian Development Bank through The Asia Foundation.
The key technical subjects

Commercial pig production
IPM-integrated pest management
Commercial chicken raising
PHM-Post harvest management
Commercial duck raising
SRI-system of rice intensification
Commercial vegetable production
Small business management
Fish culture
Financial preparation
Intergraded farming systems
Climate change
Home gardening
Farm produce market information
Mushroom production

---

Phone Number : 023 998 442
: 023 6988 787
Contact Time: Monday - Friday


Morning : 07:30 - 12:00
Evening : 14:00 - 17:00
Special Thanks to: